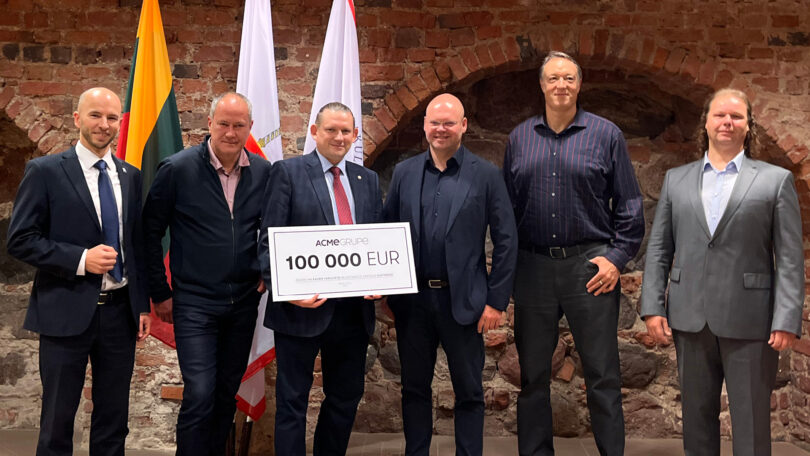 2023 10 23
'ACME Group' Invests €100,000 in the Vilnius University Endowment Fund
Tomas Palšis, Stepas Telešius, and Stede Ingram – three alumni of Vilnius University (VU) Kaunas Faculty and founders of 'ACME Group', a group of companies specialising in wholesale trade of electronic devices and other business areas – have recently donated EUR 100,000 to the VU Foundation. At the request of the sponsors, the support funds will form the Kaunas Faculty Endowment Sub-fund, with its return on investment to be used for student scholarships.
'Education is a priority of both our own social responsibility and that of 'ACME Group' in general. I believe that we all gain from every investment in this field. First and foremost, Lithuania's greatest wealth and capital stem from talented people who can create well-running unicorns, open up new business areas, and promote our country. That is why we believe that public education is up to all of us,' states T. Palšis, co-founder of 'ACME Group'.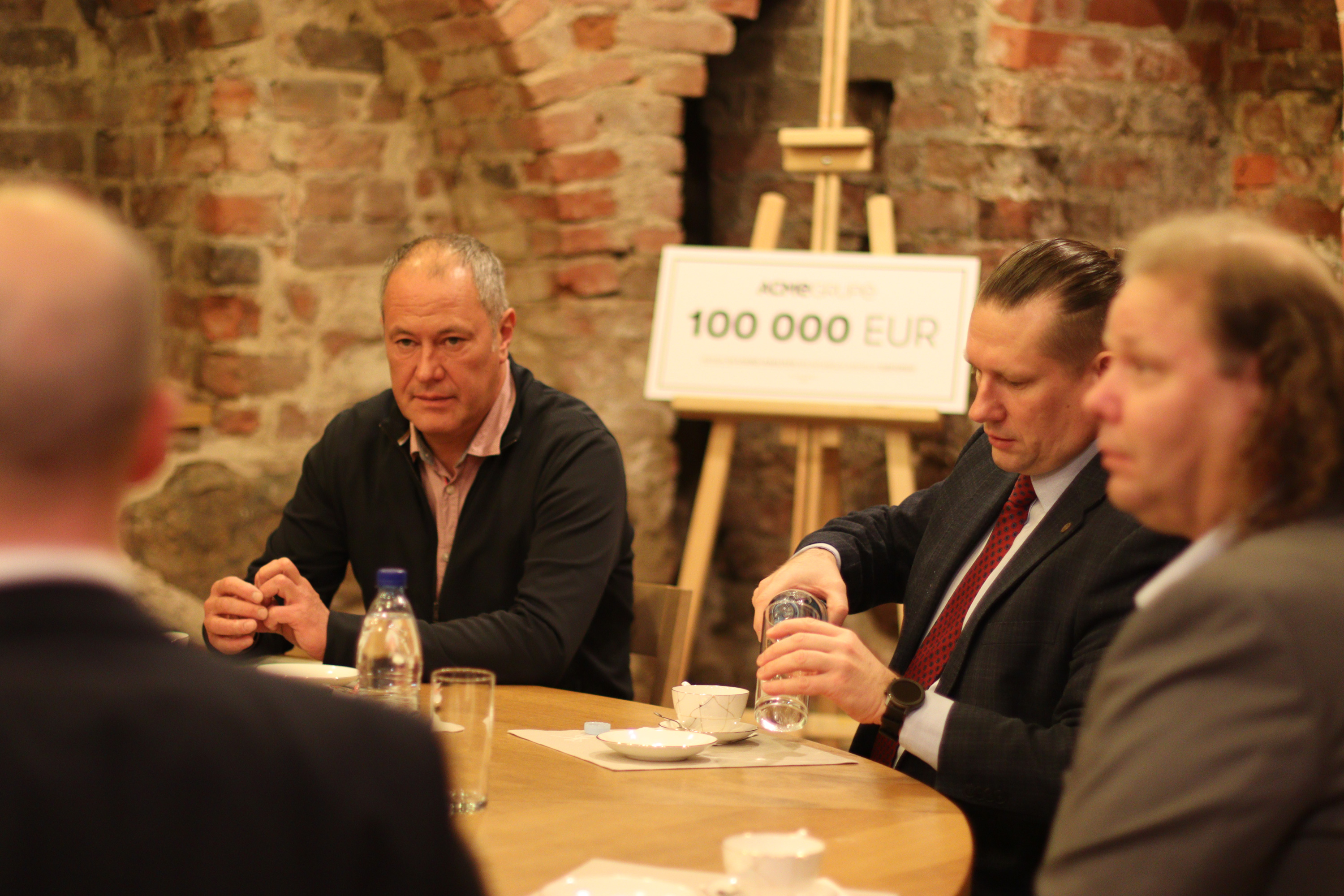 S. Telešius, a shareholder of 'ACME Group', agrees that an educated nation is a prosperous nation and that lifelong learning is, therefore, of the utmost importance: 'At university, we learn to systemise, analyse, and create. With a strong academic grounding, lifelong learning can become much easier. Having been an active VU student myself, I consider it a great honour and pleasure to support the students of this institution and, in general, contribute to the knowledge economy in Lithuania.'
The EUR 100,000 donation by 'ACME Group' will have an everlasting effect on VU Kaunas Faculty, as the support funds will be invested rather than spent. In the first year, the return on investment will amount to EUR 2,500. In 100 years, with no additional financing, solely due to exponential growth driven by reinvestment*, the value of the sub-fund established by 'ACME Group' will reach EUR 3.2 million, while the return payout to the faculty will be EUR 3.1 million.
This is not the first time that 'ACME Group' has supported VU Kaunas Faculty: the group has already awarded nominal scholarships to its students and shared their experiences during guest lectures.
'We regard the establishment of the sub-fund as a milestone for Kaunas Faculty, which will celebrate its 60th anniversary next year. It will allow us to attract more talented students and boost their motivation to achieve a high level of academic success. The generous support of the alumni who founded and have successfully nurtured 'ACME Group' is not only important financially but also symbolically precious for the entire faculty community. It is gratifying that former faculty students still foster a connection with their alma mater and return "with interest" and gratitude for their knowledge, first professional experience, and valuable contacts acquired at VU. For us, this is a significant recognition and commitment to educating future specialists,' Assoc. Prof. Kęstutis Driaunys, Dean of VU Kaunas Faculty, expresses his gratitude.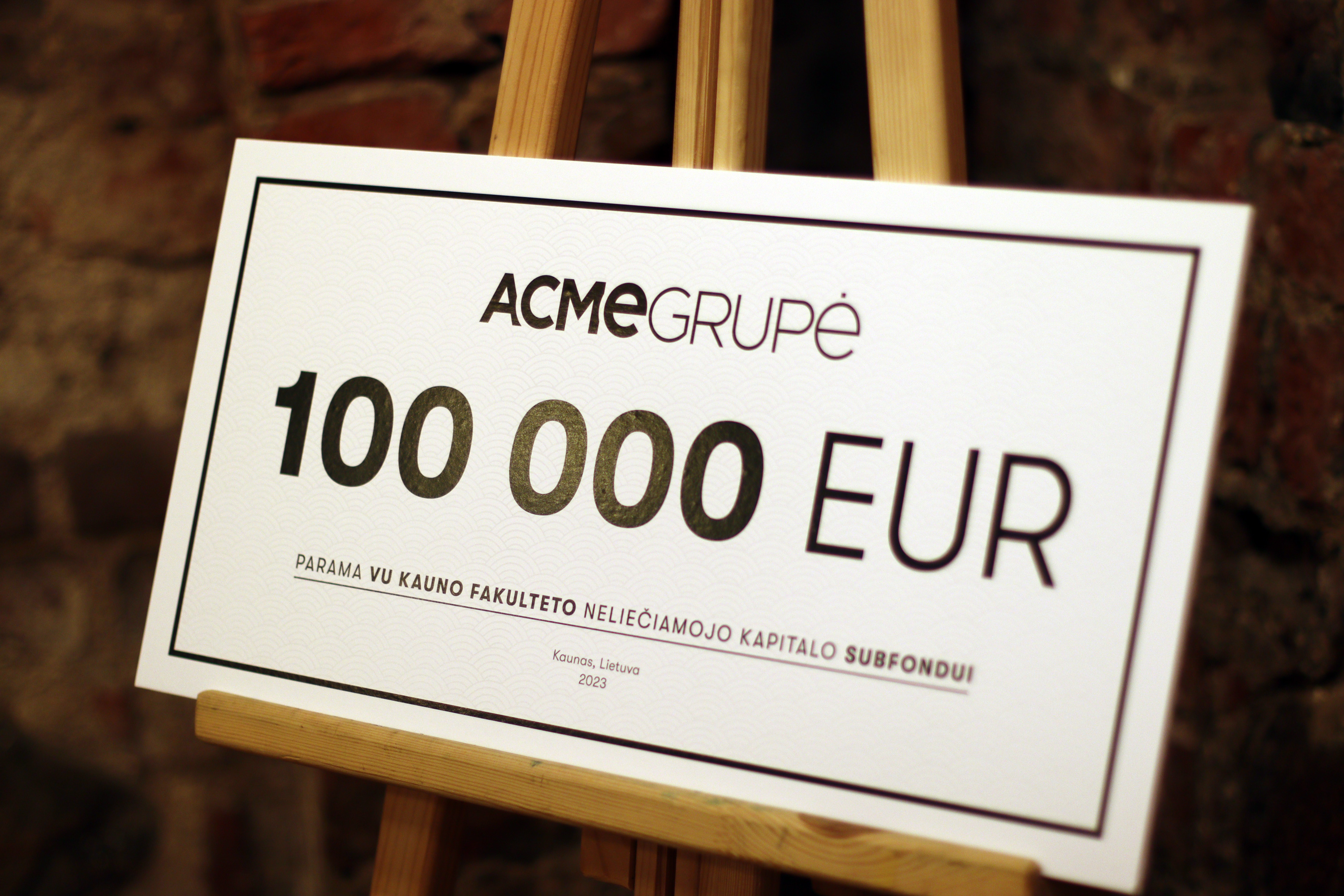 'A strong education system and scientific progress are important elements of the country's development, not only in building a mature and creative society but also in ensuring favorable conditions for the creation and expansion of business, which is a powerful economic growth driver. The VU Foundation is Lithuania's first university endowment fund established in 2016. The support funds allocated to the VU Foundation are professionally invested, and the return is used for financing the university's research talents,' says Justinas Noreika, CEO of the VU Foundation.
According to J. Noreika, the funds of the newly established VU Kaunas Faculty Sub-fund will be invested jointly with the VU Foundation's main endowment capital, the value of which, after the generous donation by the alumni, has reached almost EUR 3.9 million.
Over seven years of its operation, the VU Foundation has already allocated more than EUR 1 million to different fields: co-financing through a tender seven VU young researchers with strong international experience (up to EUR 30,000 per researcher); granting 27 scholarships of various sizes to talented Lithuanian and international students (more than 41,000 grants from EUR 225 to EUR 2,300); contributions to research funding (EUR 426,000) and VU community projects (EUR 340,000), as well as to the management of the COVID-19 pandemic (EUR 55,000), and the support of the Ukrainian academic community (EUR 52,000).
In 2021, the VU Foundation introduced the possibility of establishing and contributing to named endowment capital sub-funds, whose investment returns are used to implement and finance the objectives set by specific university units or philanthropists – e.g. scholarships, research awards, or internships. Currently, there are ten such funds, and the Kaunas Faculty sub-fund established by 'ACME Group' will become the 11th one.
'The VU Foundation is being actively supported and backed by the broad community of Lithuania's philanthropists who understand the importance of advanced higher education for the general development of the state. The long-term goal of the VU Foundation is to mobilise EUR 1 billion in endowment capital, which would allow us to strengthen the financial stability of the country's most innovative university through the return on investment; it would also open up opportunities to take on more ambitious financial commitments and ensure the university's international competitiveness in the long run,' says J. Noreika.
More → VU Kaunas Faculty Sub-Fund
_
Founded almost 60 years ago, the VU Faculty of Humanities in Kaunas became a counterbalance to the technical higher education institutions that dominated the city at that time. Today, Kaunas Faculty offers studies in the fields of the humanities, as well as social, physical, and technological sciences.
'ACME Group' is a 30-year-old group of Lithuanian-capital companies, uniting more than 30 business entities operating in the Baltic States. The group consists of such companies as 'ACC Distribution', 'AVAD Baltic', 'ACME Solar Group', 'Servisa ICT', 'ACME Film', 'ACME Valda', and 'ACME NT'. With almost EUR 600 million in turnover, the group's business areas include wholesale of electronic equipment, sustainable energy, and real estate development projects, as well as film production and distribution. The group has created over 400 jobs.