About project
Project sponsors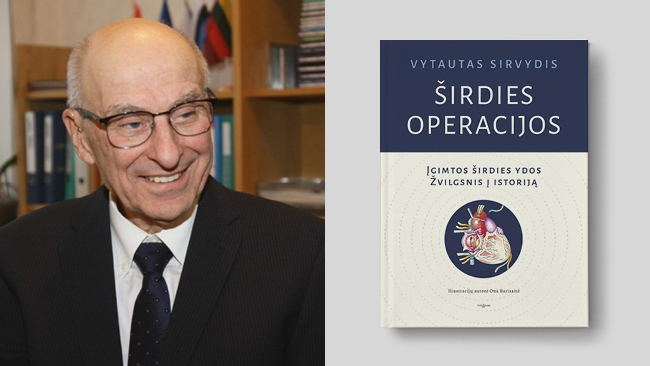 Financing Prof. V. Sirvydis' monograph "Cardiac Surgery"
Collected out of 4 360 €
Times donated
After receiving targeted support for this project the VU Foundation was able to finance the monograph "Cardiac Surgery. Congenital heart defects. A look at history."
Vytautas Jonas Sirvydis, the author of the book, professor Emeritus of Vilnius University – graduated from the Faculty of Medicine of Vilnius University in 1959 and was a surgeon at Vilnius City Hospital for two years. After that all his work was at the Clinic of General Surgery of Vilnius University, which later became the Clinic of Cardiovascular Surgery, and finally, the Clinic of Cardiac Surgery. He was first a cardiovascular surgeon and later a cardiac surgeon. He occupied the following positions: Head of the Department of Cardiac Surgery (1968 -1983),  Head of the Department of Congenital Heart Defects (1983 -1990) and  Head of VU Cardiac Surgery Clinic (1990–2008).
The author of illustrations, Ona Barisaitė, graduated from the Faculty of Medicine of Vilnius University in 1958 and started a career as a surgeon at the VU Hospital Surgery Clinic. Later from 1985 till 2010 she worked in cardiac surgery at VU Cardiac Surgery Clinic. Ona Barisaitė combined her dedication to surgery and her patients with the artist's talent nicely and drew schemes of almost all heart surgeries performed in Vilnius.
This book describes most of the congenital heart disease correction operations performed today and presents their drawings – schemes. The pathology, pathophysiology, and indications for surgery of congenital heart defects, as well as their near and far results, are also presented here. Many heart defect correction surgeries are very complex and have a long and difficult history of development. Therefore the pursuit of excellence has often required a great deal of dedication on the part of several generating surgeons who have worked in various countries around the world.
The history of the development and improvement of these operations in the world and in Lithuania that are presented in the monograph can not only intrigue, but also help to understand the essence of the most complex heart operations. Because there is still no Lithuanian heart surgery textbook, this book can be useful for medical students, resident doctors, young surgeons, as well as cardiologists, pediatricians, and other physicians who want to understand the principles and possibilities of heart surgery.
Project sponsors
Vilnius University Foundation (using targeted donation)