About subfund
Subfund sponsors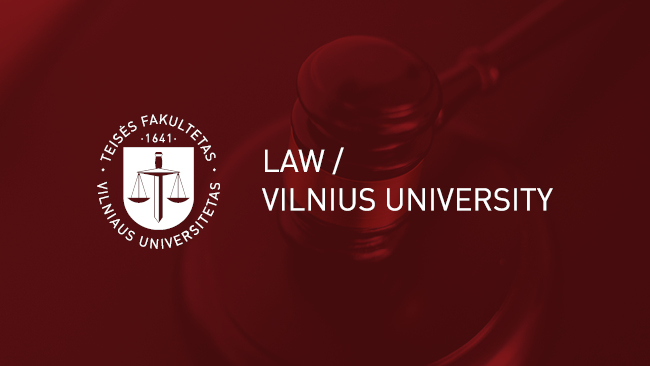 VU Faculty of Law Endowment Subfund
20 260 €
out of 100 000 €
20%
Vilnius University Faculty of Law (VU FL) presents its Endowment Subfund and invites the legal society, faculty partners and friends, as well as the Alumni community to contribute to the future education and development of the law science by donating online.
Dean of VU Faculty of Law Prof. Dr. Tomas Davulis (left) and CEO of VU Foundation Justinas Noreika, CFA
VU FACULTY OF LAW
The Faculty of Law is one of the oldest faculties in Vilnius University. The Grand Duke of Lithuania and the King of Poland Vladislav Vaza established the Faculty based on the privilege issued on October 11, 1641. Donated by K. L. Sapiega, the real estate, large collection of books (Bibliotheca Sapiehana), and large monetary donations at the time ensured long-term financing and economic independence of the law science and studies.
380 years of history allow the Faculty of Law of Vilnius University to continue its mission of contributing to Lithuania's statehood's establishment and the creation of a free, democratic and sustainable civil society by fostering lawyers (who shall provide stability and legitimacy to the state and society), investigation and improvement of legal regulations, along with developing a national legal framework and an entire legal tradition as part of the Western civilization.
ENDOWMENT SUBFUND
VU Faculty of Law Endowment Subfund is a sustainable and intelligent finance management model, where the received funds are invested in various asset classes and the return on investment is allocated annually to the needs of the faculty.
VU Foundation's investment strategy is in line with the best international practice: diversified financial instruments; risk management; investing in a global market. The Subfund's capital is invested together with the main Fund's capital. An allocation ratio of 2.5% (or individually agreed) is used to calculate the annual payout to VU Faculty of Law. The part of the investment gain that exceeds the payout is reinvested.
Because of reinvesting, the value of the Subfund will grow exponentially over the years. Check out the simulation below on how the initial capital of EUR 100,000 will grow over the next 100 years and what return it will bring to VU Faculty of Law.
ALLOCATING THE RETURN ON INVESTMENT
The subfund's investment returns will be used in several ways: to attract world-class academic staff, to invite the most talented students, and to offer various scholarships.
DONATE AND SPREAD THE WORD
Quickly and easily donate online and raise awareness in the legal community! Contribute to the education of lawyers and the development of future legal science.
_
You can also donate via bank transfer:
IBAN → LT10 7300 0101 7174 1965 (Swedbank)
Payment purpose → Donation to VU FL Endowment Subfund
Recipient → Paramos fondas Vilniaus universiteto fondas (company code 304222713)
For contribution contracts over 14.5 thousand Euro notarization is required. Vilnius University Foundation will take care of it. Contact us in a convenient way.
_
Learn more about → VU Faculty of Law
Contact person:
Vigita Vėbraitė, VU FL Public Relations Representative
Email → vigita.vebraite@tf.vu.lt
Phone → +370 686 88616
Subfund sponsors
Individuals
Rytis Paukštė
Remigijus Lapinskas
Tomas Griškevičius
Supported anonymously
Goda Šerelytė
Vigita Vėbraitė
Tomas Davulis
Justinas Noreika
Paulina Sukurė